Muhammad Tayyeb
UET Peshawar.
---
Hi Guys!
This is the second version of my personal web page.You will find some pics rather many pics and some technical stuff related to Electrical Engineering and Networking, plus lots of stuff about me.
Don't forget to sign the Guest Book.

Peace, Ciao.

Give your comments and messages below.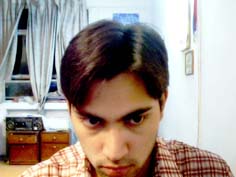 ..mylastwordsforyu...
Teri hi khatir aur sirf tere hi liye
Tujh ko apni socho may rakhna
Hum nay chor diya
Teri socho ko apnay lafzo may dhal kar
Har waqt shair kehna
Hum nay chor diya
Jo raahein teray ghar ko jati hain
Un rahoo per chalna hum nay chor diya
Jo fazaien teray dar ko cho kar guzarti thi
Un fazaoon may saans lena
Hum nay chor diya
Tu to aasmaan per chamakta huwa chaand hai
Teri roshniyo say apnay mun kay
Andhero ko Roshan karna
Hum nay chor diya
Tu to kisi aur kay aangan may khila ek phool hai
Teri khushbuoon say apnay dil ko
Mehkana hum nay chor diya
Dua hay humari k jahan bhi rahay
khush rahay tu sada
Tujh ko apni yadoo may rakh kar
Muskurana hum nay chor diya
(These are not mine ok)
Someday you'll love me,
Someday you'll care,
Someday you'll realize that you haven't been so fair,
Someday you'll find love isn't a game,
But then you'll find that I'm not the same,
My heart may have left you,
my heart may have died,
Then you'll realize the tears I have cried...
Someday you'll love me,
someday you'll care,
But maybe that someday,
I may not be there!"

Age: 22
Class: Final Year
Department: Electrical Engineering

Place: University of Engineering & Technology, Peshawar.

Birthday: 4 th December 1982
Food: I like most of the things but Rice is my favourite.

Drinks: Limoo pani(Lemonade),Pepsi,Mango Juice

Things: Reading, sleeping, eating, jogging.

People: Straightforward , Truthful.